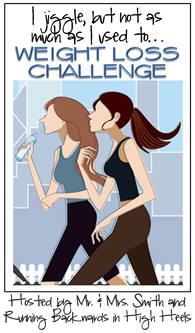 I'd like to note that I originally titled this post "Gotta shake that extra JIGGLE!" but then I visualized that statement and realized that that's just something that NOBODY wants to see. I digress.
Bathing suit season is upon us, whether you're willing to admit it or not. In honor of vanity, I am jumping aboard the "I jiggle, but not as much as I used to... Weight Loss Challenge", courtesy of one of my favorite bloggers, Rachel over at
Running Backwards in High Heels
!
Today marks the kickoff to Week 1 of 8, and I have to admit, I'm pretty excited! If you've followed me for very long, you'll know that I've been a member of Weight Watchers since January 2, 2010.
My cousin's wedding in October 2010. Holy word to my chubbiness at 208 pounds.
When I first started the program, I was 100% on track and on plan. I wrote down every single bite that entered my mouth, and might have gotten a bit too obsessive. If we had plans with friends, I would become consumed with worry over how to point the food and drinks. If we were going somewhere that wouldn't allow me to weigh and measure my food, I was a wreck. Yes, you would think that the red flags would start to wave right about
now
, but I just kept on being a Weight Watchin' Fool:
My family's visit for my graduation, May 2010- I hit my 10% goal this weekend and was down 23 pounds
.
As we moved into summer, I began to focus more on incorporating good exercise into my life and realizing that indulging every now and then and going off plan wasn't going to end my weight loss journey. And so I began to run. If you know me, you can laugh-- go ahead, I'll wait. Prior to the past year or so, I wouldn't even run across a street with traffic coming at me. These days, I find myself lacing up my running shoes at 5am to hit the track and get my miles in. I know-- somedays I don't even recognize myself either, but in a fab way! I ran my first 5k in August 2010 and haven't looked back since:


Once the Fall hit, I kind of started to slow down a bit. Brian's birthday is the end of October, and cooler weather equals yummy, filling foods in my book. I did, however, hit my lowest number before all things headed south for the winter.


Excuse the gross hair and blurriness, please. My lowest weight, 166.4, which brought me to 41.2 pounds lost.
I was mad at Thanksgiving that I wouldn't get to have all of my favorite foods the day of, so the weekend before I made our own little Turkey Day meal: roasted chicken, Stove Top (I know), macaroni and cheese, green bean casserole, and so on. From that day out, I did not consistently keep tabs on my eating until just recently. It was nice- I was fun again. No concerns about calories or too many drinks or how many chips with salsa I could have. I can't lie-- I enjoyed it. IMMENSELY.

All good things must come to an end though. Reality set in that while I maintained a weight within 5 pounds of my all-time low for several months, I wasn't doing it healthily. And so I'm back on the WW bandwagon, and I'm excited. It feels good to be in control again, but with a more realistic mindset. It's not going to end my world if I indulge at dinner for Date Night. If I miss a day at the gym, tears aren't necessary (yes, it was THAT bad). I recently ran my second 5k and am starting a training program to run a 10k this spring.


The weather in Boston is semi-warming up, so I can finally get back to my beloved track and away from The Dreadmill (big wooo! to that one!), and I'm refocusing my healthy habits on what's good for me, not just what's good for the scale.

The best part about all of this? I'm happy and more confident than I've ever been.


Now that I've given you a complete update on my weight loss journey from beginning to today (I'm not a long-winded overly detailed writer for nothing, my friends!), I'm ready to being this li'l weight loss competition! I love competitions! They make me feel so focused and motivated and... FIERCE (that one's for you,
Caitlin
).
My
current weight is 169
, and
my ULTIMATE goal is 135
, which may or may not be reachable. Also, I just calculated my BMI-- since I'm 5'7, a healthy range for me is 18.5-24.9; I'm currently at 26.5, so my goal for the purposes of this weight loss challenge for me is to work my way into the healthy range over the course of the next eight weeks, which would mean losing 10 pounds--
159 puts me in the healthy weight range!
I have never in my adult life weighed a number as small as 135, so it's kind of just My Number That I've Always Wanted but That My Hips Prevented Me From. So, I'd like to lose 10 pounds in eight weeks, which I know is very feasible and realistic for my body.
As I said, I've been running and will start training next week for a late spring 10k, so my main workout will be running, while I'm also adding in good ole Jillian (and her six week six pack DVD!) and my new hobby-- Spin!
My Less Jiggle Schedule
(aka I May Need Help Standing Up and Climbing Stairs Routine)
Monday: Jillian in the AM + Zumba
Tuesday: Jillian in the AM + run
Wednesday: Jillian in the AM + 20 minutes cardio + ultimate body conditioning
Thursday: Jillian in the AM + run
Friday: Jillian in the AM + REST
Saturday: Jillian in the AM + Spin
Sunday: Jillian in the AM + long runs
Food-wise, I'll be following the Weight Watchers program and counting my points. If you're a PointsPlus fan, I give you a big thumbs up. I hated it, it made me gain, and the customer service people were not nice when I tried to ask questions... and so I'm following the original Momentum plan. I figure that I lost 40 pounds following this plan, so if it ain't broke, don't fix it :)
I'll be checking in with a total each Thursday, complete with a picture of my scale. I've also decided (as of 2.5 seconds ago) to keep track of my measurements as well. Since I'm at work and have access to neither a scale or a tape measure, I'll take care of those details first thing tomorrow morning (duh, everyone knows you're lightest first thing in the AM...).
I'm excited! If you'd like to comment and leave a link to your own blog, I'd love to check out your story and follow your progress! Best of luck to everyone!!