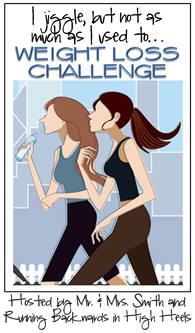 Y'all, I cannot tell a lie. Since the scale does not lie, I cannot lie to you-- I blew it this week. This weight loss challenge and I did not see eye-to-eye. I went up one pound. Okay two.
In my defense, I flat-out didn't put in my 100% this week, and while I do feel a bit guilty about that (hello shame, meet my blog fans), I also kind of don't. I could have easily fibbed and said I went down, but when I saw
Rachel's
post this morning about HITTING HER GOAL!!, I knew that I could not tell a lie to my people.
So I won't. I am a bit interested as to why I went up two pounds, but I can't dwell on it. While I did manage to Shred twice (you can spot me by looking for the girl with the granny waddle as I walk) and made great food choices (beginning Monday), I barely fit in any cardio AND I feel like I'm retaining a bit of water (TMI? Whatev.). Solution? I'm going to pound my water today and stick to my healthy food picks and pray for Saturday morning, my WW weigh-in day, to show better results.
I do feel more motivated, especially after starting to Shred and knowing that bathing suit season is around the corner, I'm both in a wedding and attending another this summer... I've gotta look GOOD. And so, I'm recommitting... again. I think that I burnt myself out after obsessively tracking my WW points and watching every bite that went in my mouth for an entire year. So I rebelled a little bit and it's not easy getting back in the saddle and being overly conscious again, which is necessary because WW IS writing and tracking every bite you put in your mouth. My goal this time around is not let the awareness overtake me-- sometimes easier said than done.
For today, I'm going to go and be excited about my afternoon quesadilla-- a Flatout wrap with a melted Babybel Light and a Laughing Cow Queso Fresco Chipotle wedge. If you're counting, that would be 3WWpoints, which is a successful snack in book.
'Til later, my lovelies.