You know the movie "Hook" with Robin Williams playing Grown-up Peter Pan and Dustin Hoffman as Captain Hook... AND Julia Roberts as Tink?
source
It was one of my very favorites in the olden days (I kid. I still totally stop and watch whenever I come across it on the TV) and one of my MOST favorite scenes was when one of the kind of nutty and very old grown up Lost Boys repeats throughout the entire movie that he has lost his marbles, then at the end, one of the Lost Boys sends Peter away from Neverneverland with a bag of marbles to give to him (sidenote: tears may be shed when this happens... every time I watch the movie).
If you're still reading, bless you. I'm not going to write about a classically family friendly movie made in the mid-90s (by the way, when did I get so old and nostalgic? Welcome to my mid-twenties, I guess?), but rather about the fact that I, Katie F., have lost my own marbles. With Easter being this weekend and Brian's family having a monopolizing affect over the few days that are fit into said weekend, we will be having Easter Sunday dinner on Saturday night, and an Easter brunch on Sunday. Because I apparently
did not learn my lesson
back in November when cooking for Meghan's baby shower, I appear to have over-volunteered myself again. The cooking has yet to begin and I'm already thinking "What have you gotten yourself into, my dear?"
There is this overpowering need inside of me that compels me to choose way more dishes than necessary for gatherings such as this, which only pushes me to the edge of complete breakdown mode. Like, think Julie Powell laying spread eagle on her kitchen floor while sobbing and flopping chicken stuffing around (I make it a point to reference Julie & Julia as frequently as possible, fyi). The obsessive person that's really not hidden deep inside but rather perches happily on my shoulder tells me that not only can I contribute the most dishes but they'll look gorgeous and taste amazing. There's really no room for error, especially when I answer boyfriend's question "That all sounds great. Is it a lot of work?" with "Nah-- piece of cake!"
He'll remind me of these famous last words sometime Saturday afternoon when I've folded into the fetal position on the kitchen floor in my white linen pants, wrapped in my sassy apron and covered in flour and cream cheese while nursing a hefty glass of pinot.
But I digress. In case y'all are interested, the menu for the weekend is as follows:
Easter Sunday Dinner on Saturday
Guacamole and Los Tostitos- My mama
Easter-y? No. Delicious and requested by all? Yes.
Mushrooms Stuffed with Brie - Pioneer Woman
Yum. Just... yum.
Veggie Squares
- The Boy's Family Recipe
(Basically Pillsbury crescent rolls topped with mayo and Hidden Valley Ranch mix, topped with finely chopped veggies. It's not fancy, but it's delish.)
Easter Candy Bark
- a fab PW-suggested food blog!
WW Lemon Pie
- WW.com
This was in one of my weekly handouts-- it's very simple (think 6 ingredients!) and light!
Insert Easter-y trifle here. I'm still looking through recipes, though my top three contenders are Banana Pudding trifle (good ole Southern Living), Berry Trifle (Tyler Florence), or Grand Raspberry Trifle (Martha Stewart and her grand dramatics...) and will decide probably right after I post this, which will bug me.
Spinach and Bacon Quiche
- Paula Deen, but of course
My friends... with this dish, I will reintroduce The Meat back into my diet, ala The Bacon.
I've already enlisted Brian to document my cooking adventures as they go along, so I'm sure there will be a wonderful variety of images to accompany my post-Easter post.
Now that you've read about all of the fatten-you-up foods that I'll be making (and consuming in small proportions, I promise!), I give you...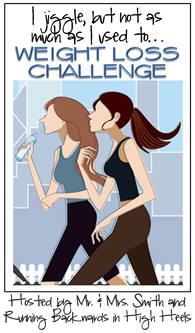 My weekly weigh-in! I'm happy to share that I'm down a pound this week, though I have no idea how this loss happened. The same story as last week is that I cannot lie to my people: I did not try to lose weight this week. As a go-er, I'm constantly doing this and going there and making that and washing this... it's exhausting, as I'm sure many of y'all know and can relate to. From the time I get up in the morning to when I collapse into bed at night, I don't stop, and this past week, it finally caught up with me. While I still definitely made conscious and healthy food choices, I didn't exercise AT ALL, minus Monday when I Shredded. Every other day I came home, took a nap, and tried to relax.

Tuesday night I told Brian I needed a break and he gladly took over the recipe and made supper (bless you, my love!) while I watched The Biggest Loser. We vowed to hit the gym yesterday when I was attacked by The Allergies at work (Caitlin can attest to this-- as she said this morning as only a friend can, "You looked like a cold medicine commercial before you left yesterday" hahaha) and sent home. I had chills and fell asleep on the drive home (in the passenger seat, duh). It was like God finally waved my own little white flag and made me surrender... and so I did. Straight into a hot shower I went, then straight into my pajamas, then straight into my bed, where I proceeded to coat myself in Vicks, camp out with my tissues, and knocked myself out with Benadryl (Brian was so happy to be there to witness this gorgeousness, I can assure you). When I woke up at 8:30, I had no idea where I was or why it was dark... and that felt so good! The Boy made me Kraft mac and cheese (Toy Story figures, my fav, because the cheese gets in all of the nooks and crannies!) and I laid in bed, ate my supper, watched a new AMC-show The Killing (so, so good!), took another Benadryl and called it a night.

I get it. I needed the rest. I'd been feeling so rundown and exhausted and just wouldn't take the time out to rest, so The Big Guy gave me a little timeout himself. I'm happy to report that I feel SO much better today and am looking forward to getting back to the gym this weekend and getting back on the healthy track while working meat back into my diet (Alleluia to Easter Sunday and The Meat!!), which I think will greatly help the weight loss-- fewer starches + more protein = closer to bikini body!

If you made it this far, you are a true devotee, and I heart you to pieces. I'm off to dig into my spinach salad with a meatless meat patty and diced BabyBel Light-- yum, I know.

Oh, and can I just ask for the day to fly by, so I can see this little guy (who took his first plane ride this morning and did wonderfully!!):


'Til later, my lovelies!!